VOLUNTEERS DRIVE THE MOVEMENT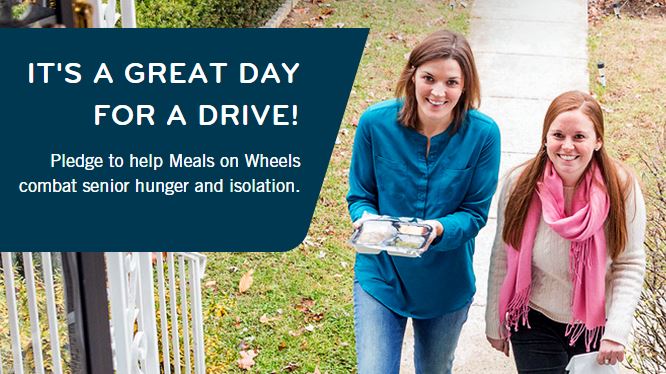 Thank you for your interest in becoming a "Meals on Wheels for Fort Collins" volunteer. We ask that before you complete the application; please consider the following expectations. Volunteering for Meals on Wheels constitutes a serious commitment on your part. Our clients rely heavily on their noon meals, as it may be their only complete meal that day. So, we ask you to consider the seriousness of this position before volunteering.
Please submit your completed application  HERE
If you do not hear from our office within 2 days, please call 970-484-6325
Volunteer Expectations
It is essential you arrive at the designated time to fulfill your volunteer task.
If you are unable to volunteer for your scheduled commitment time, please give the office as much advanced notice as possible. We understand that there may be extenuating circumstances (such as illness, an emergency situation, vehicle problems, or last minute changes in your schedule). However, please understand it is very difficult to find available drivers to fill in when drivers forget to let us know or don't show up to drive their routes.
Email: info@fcmow.org of call 970-484-6325 to relay the message.
If you might be delayed or are running late, call the office so we are aware that you are on your way.
Meals on Wheels for Fort Collins requires the following:
Minimum age of 18
Flexibility to drive anywhere in Ft. Collins, Laporte and Wellington
Minimum requirements of 12 active weeks of active participation or 12 shifts within 12 months
A Background check is required for all volunteers. We ask that you cover the initial cost and upon request we would be happy to reimburse you after 10 weeks or 10 shifts of active participation. If you are unable to cover this cost, please do let us know. (We will provide background check process information upon receipt of the application)
Signed Waiver
Photocopy of valid driver's license
Photocopy of auto insurance card
Confidentiality of our clients under all circumstances (understanding that all client information is to be treated confidentially; never to be used for any other reason than your volunteering duties require).
Under no circumstances should a volunteer solicit in any form from a client.
All volunteers are advocates for our client's safety and well-being. By volunteering, it is your duty and responsibility to communicate any concerns regarding clients to our office as soon as possible.
When delivering please always carry your cell phone to call in or so we can reach you if needed.
Picking Up & Delivering Meals
Meal preparation and pick up is done at the Poudre Valley Hospital also known as PVH, located at 1024 South Lemay Ave. Arrival times are staggered between 11:00 & 11:20am. This will be assigned by the volunteer manager upon confirmation of your subbing shift or regular route assignment. All volunteers should be en route with their meals by 11:30a.m. for optimal food safety. Your weekly assigned route may have a varying number of stops due to client needs and cancellations. Please do not make any personal stops during your route even if you think you have time. Your priority is to get the meals out during delivery time between 11:30am-12:45pm.
Common Abbreviations and Names of Types of Meals
Our meals come with a hot side and a cold side. One of each equals one meal for any meal type. You could see the abbreviation or the full name of the meal type. Regular (REG) meals will have nothing written on them. Other meal types are: Option B (OPT B), Large (LG), Dental Soft (DS), Vegetarian (VG), Renal (R), Puree (P) and these will have a stamp or sticker on packing indicating what meal type is inside.
Delivery to Clients
If there is no answer at the client's home after giving ample time: (Be sure to read the client special instructions on your route sheet for information regarding that client.)
Always lave the meal in the cooler if available or put in a plastic bag & place as close to waist level as possible.
Always call the office at that stop so we can begin follow up.

THIS PHONE CALL IS EXTREMELY IMPORTANT. IT CAN BE LIFE SAVING IN SOME CASES

Leave a voicemail at our office if you don't reach us. Message should include your name, the client's name, and where you placed the meal.
Shred your route sheets when you are done delivering to secure client confidentiality.
When Should You Call 911?
If you arrive at a client's house and you find them unconscious, CALL 911 IMMEDIATELY!
If you arrive at a client's house and they are conscious but appear to need help of a non-emergency nature offer to call a relative or someone else & call the MOWFC office to report situation and we will assist contacting someone for them.
Do not try to help them up from a fall unless a list assist is all the is required. Stay with them until the emergency personnel and/or emergency contact arrives. Do not continue on your delivery.
If they want you to call an emergency contact, but they can't give you the number, call our office @ 970-484-6325 for assistance.
If any of the above situation occur call us @ 970-484-6325 so we can continue to follow up and/or let clients know you have been delayed.
If you have an up-to-date CPR certification, it is your decision whether or not you decide to perform CPR in the case of someone being unconscious. If you are not recently trained and/or certified call 911 and let them handle the situation!
If anything else at all seems "off" or the client is complaining of pain, dizziness, told you they fell, etc. call our office and we will alert their emergency contacts of the situation just to be safe.
Extended Volunteer Absences
Please note that if you plan to be gone for an extended period of time please provide us with a date of your return, we will do our best to keep your regular route available to you upon your return, however we may have to fill your regular route with a new volunteer if the absence is extended. We will be more than happy to put you on another open route at the time or make you an on-call driver until a route opens up. We appreciate your understanding and consideration.